Overview
Andy Cohen's Then and Now is a reality TV show that ran on Bravo in late 2015 and early 2016. Andy Cohen serves as the show's executive producer and the host.
In each episode, Andy and his celebrity guests look back at the years 1989, 1994, and 2000. The guest talks about various pivotal moments in history and then talks about what's different between then and now.
Andy's celebrity guests include Billy Eichner, Bethenny Frankel, Connie Chung, Drew Pinsky, Kelly Ripa, Mariel Hemingway, and Margaret Cho.
Executive Producers
The Executive producers of Then and Now include Andy Cohen, Erin Dean, Fenton Bailey, Randy Barbato, and Tom Campbell.
Production Company
World of Wonder and Most Talkative Productions produced Andy Cohen's Then and Now.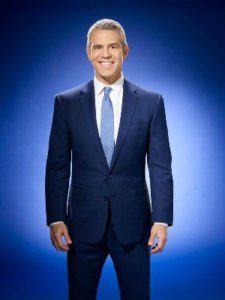 Cast Overview
Following is a list of the primary cast members for the show. Click on the cast member's name for more detailed information.
Andy Cohen
One or more special guests per episode, discuss their views and experiences from the past.
List of Episodes
Andy Cohen's Then & Now ran for two seasons with three episodes. Each episode was approximately 42 minutes in length. The show is available to stream online now via Amazon Video.
Season 1
Episode 1: 1994 – The first episode focuses on events from 1994, including the death of the lead singer of Nirvana, Kurt Cobain. Also, the show covers the O. J. Simpson murder trial of the century. Next, guests discuss the early days of Amazon.com. Finally, Andy reviews the popular hit show "Friends", and more.
Episode 2: 1989 – The 1989 episode focused on Botox, Spike Lee's Do the Right Thing, AIDS, MTV's House of Style, and the fitness culture.
Episode 3: 2000 – The 2000 episode focused on the internet bubble, Sex and the City, Y2K, and early reality TV shows Big Brother and Survivor.
More Information
For more information about the series, cast members, and episodes, please visit Andy Cohen's Then and Now Official Website or the show's Wikipedia Page
If you have any questions, comments, or feedback about Andy Cohen's Then and Now, please post a message below. Also, check out other Bravo TV shows.