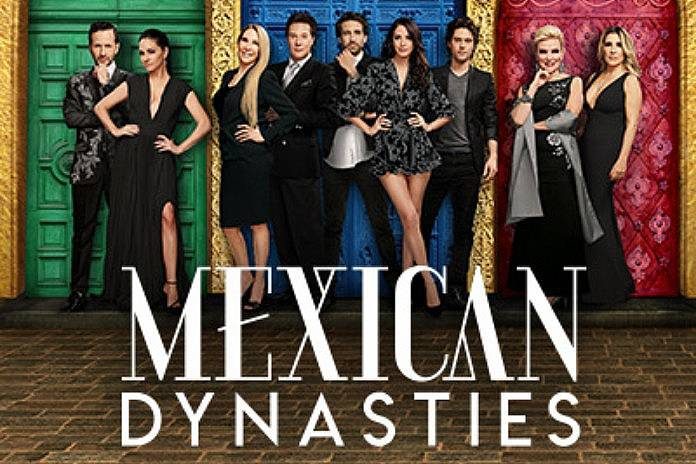 Overview of Mexican Dynasties
Mexican Dynasties is a reality TV series premiered on the Bravo network on February 26, 2019. The new series features three wealthy Mexican families: the Allendes, Bessudos, and Madrazos – whose fortunes stem from the entertainment, beverage, and luxury car industries, respectively.
The show offers a glimpse into the family-oriented culture in Mexico. The three family dynasties are connected through both personal and professional relationships. The show highlights their over-the-top lifestyle and their sometimes outrageous behavior.
Cast Members
Here's a quick overview of each of the families:
The Allende Family
The Allende family consists of Fernando (Father), Mari (Mother), Elan (Son), Adan (Son), and Jenny (Elan's wife)
Fernando Allende is a movie star. He has married his wife, Mari, for over 30 years. They struggle to realize that they are not as close to their children as they were. Their son Elan and his wife Jenny are raising two children. Plus, they are working on their careers in the music industry.
Their other son, Adan, is also trying to make it in the music industry. The show highlights the somewhat strained relationship between Elan's wife and his mom.
The Bessudo Family
Doris Bessudo is a Public Relations expert who moved from Beverly Hills, California, to help her mother after her father died. Doris is a cousin of Mauricio Umansky, who is married to Kyle Richards of Real Housewives of Beverly Hills. Her mother, Raquel, is a popular fashion critic in Mexico. However, living together quickly becomes a challenge.
Raquel Bessudo
Doris Bessudo
The Madrazo Family
Oscar and Paulina Madrazo are brother and sister.
Oscar Madrazo
Paulina Madrazo
Episodes
Season 1
The first season of Mexican Dynasties has a total of 10 episodes. Following is a list of episode titles:
E1 – Dynasties, Dinero, and Dysfunction
E2- A Star is Torn
E3 – La Voz of Reason
E4 – A Family Fractured
E5 – Grudges and Gefilte Fish
E6 – Love is in the Air
E7 – Tres a Crowd
E8 – Paz for Concern
E9 – The Runway
E10 – Blood is Thicker Than Tequila –
Season 2
Additional episode titles will be added as they air. Previously aired episodes are available to stream online at Amazon.com.
Producers
Campanario Entertainment and Shed Media produced the Mexican Dynasties series for Bravo. The series' Executive producers are Jaime Davila, Pamela Healey, Lisa Shannon, and Paulina Williams. The episodes are filmed on location in Mexico City, Mexico.

Ratings
Following are some of the most recent ratings for the series:
72% of Google users like the show
IMDB gives the show a rating of 6.2 out of 10 stars
Questions and Comments
To learn more, visit the Mexican Dynasties page on Bravo's website or the series Wikipedia page.