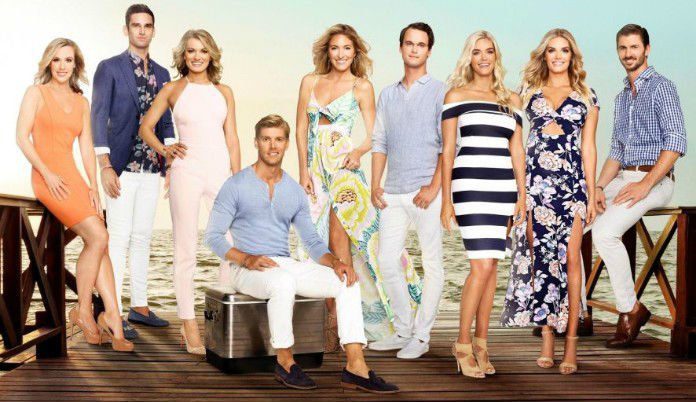 Series Overview
Summer House is a reality TV show on the Bravo Network. The show follows the escapades of a group of friends who live in New York City. The group rents a house in The Hamptons in Montauk, New York each summer.
The Hamptons are the ultimate respite from the daily grind of New York City. Their summers filled with lavish parties, love triangles, secret hookups and rosé all day.
Executive Producers
Steven Weinstock
Glenda Hersh
Lauren Eskelin
Noah Samton
Matt Odgers
Scott Teti
Sean Clifford
Studio Information
Left Hook Media
True Entertainment
Summer House: Filming Location
The show is filmed primarily on location in The Hamptons in Montauk, New York. The primary cast members live and work in New York City, and travel back and forth to the Summer House each year.
Cast Overview
Following is a list of the primary cast members for the show. Click on the cast member name for more detailed information.
Amanda Batula (2, 3)
Amit Neuman (2)
Ashley Wirkus (1, 2)
Carl Radke (1, 2, 3)
Cristina Gibson
Danielle Olivera (2, 3)
Everett Weston (2)
Hannah Berner
Jacklyn Shuman
Jordan Verroi (3)
Kyle Cooke (1, 2, 3)
Lauren Wirkus (1, 2)
Lindsay Hubbard (1, 2, 3)
Paige Desorbo (3)
Stephen McGee (1, 2)
Season Episodes
Season 1
E1 – Summer House
E2 – Codependence Day
E3 – Flirting With Disaster
The Wrath of Wirkus
Wine, Whining, and Wieners
Model Behavior
Hoedown Showdown
Sprained Relationships
The No Good, Very Bad Rosé Day
Winter is Coming
Season 2
Passing the Torch
Stars and Gripes
Bonfire Insanity
Don't Poke the Bear
Smashelorette
Mother Knows Best
The Exes are Coming
Say it With Flowers
Summer Should Be Fun
A House Divided
Lei it to Rest
Season 3
Episode 1 – Elephant in the Room – The group returns for another summer in The Hamptons. Drama in the off-season serves as a catalyst for intense drama throughout the season.
Theme Song
The show's theme song is "We Never Stop", written by Memoir.
Facts and Trivia
Following is a list of little-known facts and trivia about the show and its cast members:
The Summer House cast made its debut during the tenth episode of the fifth season of Vanderpump Rules, another popular reality TV show on Bravo Media. Several cast members of Vanderpump rules, including Stassi Schroeder, Katie Maloney, Scheana Marie, and Kristen Doute, visited the Summer House for a few days.
When the show returned for a second season, they had to find a new house in which to film the episodes. The previous house, used during Season 1, violated a town code that prohibits more than four unrelated people to live in a house. In addition, the house was not officially listed on the town rental registry.
More Information
For more information, visit the Summer House page on BravoTV.com.